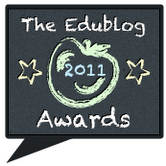 Nominations for the 2011 Edublog Awards are closing tonight at 11:59 ET. If you have a favorite blog, wiki, or podcast that you would like to see recognized by a global audience, please take a moment to make a nomination. I made my nominations a couple of weeks ago. You can read my nominations here.
Even if you don't make any nominations I encourage you to check out the list of nominees when it's published next week. The nominees list is a great place to find new blogs and people to follow and learn from.
Thank you to everyone that has nominated me and Free Technology for Teachers for 2011 Edublog Awards.
Disclosure: Edublogs has been an advertiser on Free Technology for Teachers.